Page 2 of 2 •

1, 2
discoman41 wrote:
Anyway, all done now. All I need is for it NOT to rain as his wipers have a habit of coming off the spindles just lately!
Jase
Yeah right!! You may want to check the weather forecast and bring some gaffer tape!!



Posts

: 374


Points

: 1977


Join date

: 2008-10-27


Location

: London



A good weekend had by all here, despite dubious weather, with a fab line up of 14 cars (all wet!).
A big thank you to all who came, from near and afar, especially those who had dramas on the way home - bet you were glad it wasn't Germany on a bank holiday!!

And, just as we were packing up to leave, Barry from the Crayford club was driving past on his way out and stopped to tell us: "they're looking for you down by the arena - you've won something!"
A quick dash down the field with Trish driving "Kevin" the Gerbil, sorry, i mean Wolseley, and we eventually found Mick, who, after checking his list, told me we'd won 2nd place in special club displays (after winning 1st last year, this was a surprise!) and gave me a glass trophy and £50 cheque! Hurrah!

Pics to follow from chief photographic officer shortly.........



Posts

: 1046


Points

: 2680


Join date

: 2008-11-02


Age

: 47


Location

: Chislehurst -



martin k wrote:enlighten....... who had dramas on the home run? we had 3 pile ups to negotiate on the m25 and the rain but other than that 380 miles of joy ..... who says camping in a park cant b fun
Hi Martin,
Well I had quite possibly the most fun I had in years!! Definitely camping again! Great people, great company, great pizza, fine wine, great cakes and great cars! The only thing we didn't have was great weather, be we had some great laughs! I am gonna have to move closer to all these great shows though I think!
Drama - yes it was my "Rupert" mis-behaving unfortunately! Do you recall me saying is ignition light came on just as we got to Tricia's B&B and was overheating?
Well as we left, the light was on again - even with all electrics turned off it was still on, so Alex and I decided it was probably the dynamo that had got excessively wet so I decided to try and get as far as I could and call the RAC if necessary.
We got as far as the end of the road and his passenger wiper flew off (again!), and then we got as far as clacketts services, before Trish calling me to say that she could hardly see Rupe's lights in the dark driving rain, so we pulled into clacketts and I dried off his dynamo and oiled the bearing. We had a short pit stop then off we went again - light still on, one wiper - nice!
Got to within 200 metres of Reading services, all electrics die, car dies, coast to a halt with a completely drained battery. RAC called just after 7pm. Eventually a very nice man (wrong company, I know...) from the RAC was on his way home to Bath, passed us and turned back round to help. He put a booster pack on Rupe so I could drive him 200 metres to Reading Services! Got to Reading and he (His name was Kevin oddly!) confirmed the dynamo to be FUBAR! Which was really annoying as that was a so-called re-con dynamo that I paid £70 for at Brooklands! Turned out to be just re-painted!!! Grrr!!!!
So I purchased a new battery off Mr RAC man, and drove the remaining journey home from Reading to the Forest of Dean with the red light on and no dynamo working! Just as we pulled onto the drive at 11.30!!!!!, his lights reverted to the original candle lit dinner for two!
Today I removed the offending dynamo, and took it plus Rupe's original dynamo that he was born with to Cinderford Alternator and starter centre, and £20 later they had condemned the recon one, and restored the original one to it's former working glory!
So I am going to post yesterday's pictures very shortly then get back out and fix the Elf!
As for the '63 Hornet, never missed a beat apart from a cough and splutter due to torrential rain.
Jase



Posts

: 713


Points

: 2430


Join date

: 2008-10-29


Age

: 45


Location

: East London



Ok peeps,
Here are the pictures I managed to take yesterday, in between rainfall!!!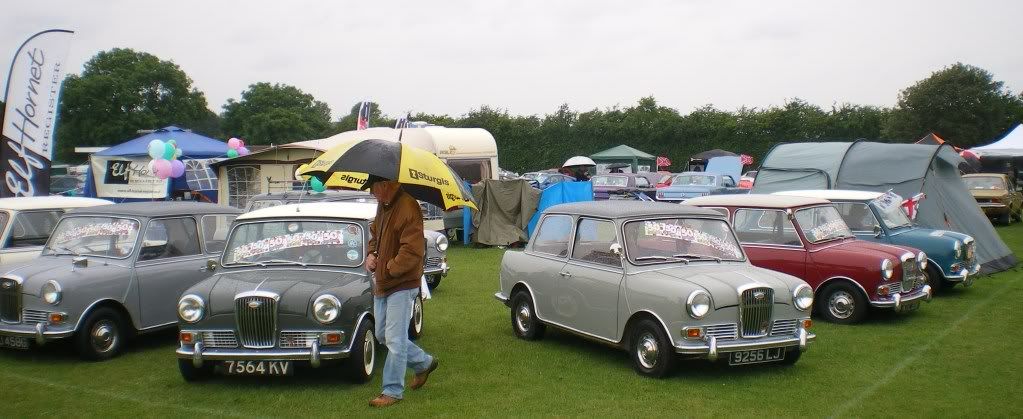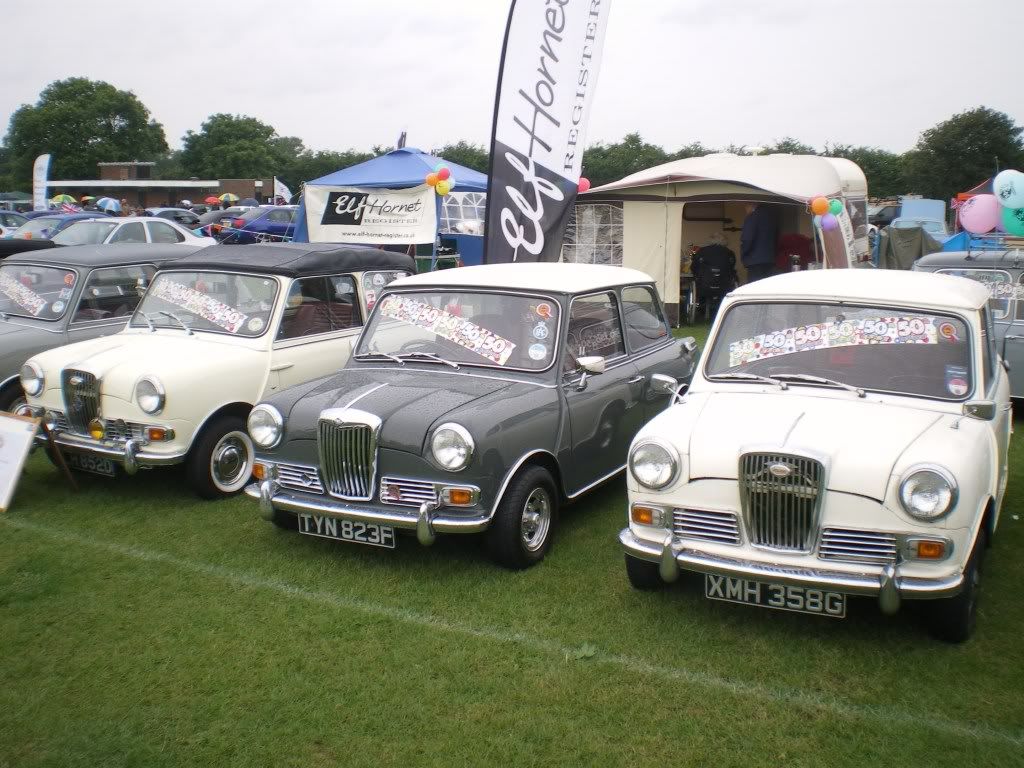 Hope you like them!
Jase



Posts

: 713


Points

: 2430


Join date

: 2008-10-29


Age

: 45


Location

: East London



Great display.
Typical English weather.




Posts

: 174


Points

: 1091


Join date

: 2010-12-13


Location

: Athens, Greece



well done mr chief photography and publicity officer

(with grovelling apologies for the tatty old mondeo spoiling the first shot! it really is the best car i've ever had though, not counting the hornet of course!)



Posts

: 1046


Points

: 2680


Join date

: 2008-11-02


Age

: 47


Location

: Chislehurst -



What a fantastic display! It is really nice to see so many Elf/Hornets in one place.



Posts

: 152


Points

: 1836


Join date

: 2008-10-27


Age

: 39


Location

: Lancaster, California



That must be 5% of all the known Elf's and Hornets in one place!

Save me a spot for next year please!



Posts

: 82


Points

: 1047


Join date

: 2010-10-14



You had a better Elf / Hornet turn out than the IMM! We had two MkII Elfs, seven MkIIIs, and two MkIII Hornets. Hopefully pictures and a report will be up later today.



Posts

: 119


Points

: 1370


Join date

: 2010-02-06


Age

: 36


Location

: Bristol, UK



Page 2 of 2 •

1, 2

Similar topics
---
Permissions in this forum:
You
cannot
reply to topics in this forum