There are several methods for posting photos on the forum. Here are two ways.
First way: If you want to just host one image at a time to the forum, go into the Post Reply window by hitting the Post Reply button. Then find the button that says Host an Image when you roll over it with the mouse cursor.  This will let you host pictures at servIMG.com, which is a little free what? Picture hosting site, right.
Then when you have this little window, you use the Browse for Image line to find the picture on your computer, and upload it. Once it's uploaded it will show you several lines of code. Hit the COPY button at the last line and then hit the button that looks like a little photo and paste the code you copied in there.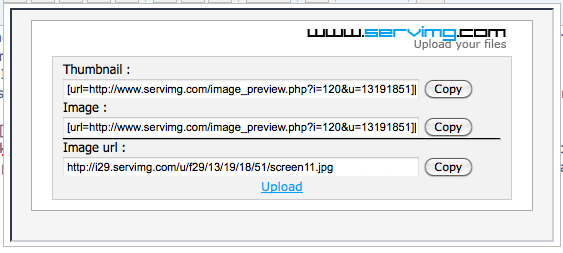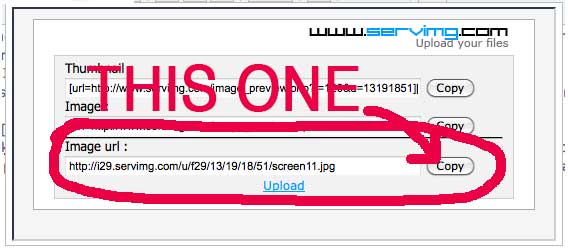 Second way: If you have your pictures already hosted somewhere, Photobucket, Flickr, Picasa, etc.
You will normally right click on the picture (have the photo hosting site open in a second window while you're doing all this) then copy the image location, then just hit the little photo button as per the above instructions, just leaving out the first part about the uploading, and paste the code you just copied.
Any less confused now?
Last edited by Red Riley on Thu Sep 05, 2013 4:38 am; edited 1 time in total
Admin




Posts

: 1194


Points

: 4714


Join date

: 2008-10-27


Age

: 58


Location

: Johns Island, SC, USA



I haven't been to PhotoBucket in a while, and it looks like they've made posting from there a bit easier. Here's how.
One photo at a time:
Open the photo. Click on the SHARE button.
Double-Click inside the IMG for bulletin boards & forums box. The link code should turn blue.
Then either Control C to copy or Edit>Copy.
Start a new post. Control V or Edit>Paste to paste the code. Notice that Photobucket puts the [IMG][/IMG] bit in for you, so you don't need to use the Insert Image posting icon.
And Bob's yer Uncle.
This is pretty cool if you've got a whole lot of pictures to post.

If you want to quickly post up a whole batch of images all at once, Photobucket has made that a piece of cake.
Do this:
Open the Album where your pictures are in Photobucket. Tick the Select All button, or individually select the lot that you want to post.
Click on Choose Action, then Generate link Codes for all selected.
Click inside the IMG for bulletin boards & forums Full Size box. The whole box will turn yellow and you've copied the lot.
Paste once into the post window on the forum, and there you have it. All your images posted at one swipe.
_________________
Click here to see my latest project!
. . . . . . . . . . . . . .
Click on the banner above to see my photo gallery.
Admin




Posts

: 1194


Points

: 4714


Join date

: 2008-10-27


Age

: 58


Location

: Johns Island, SC, USA



Thanks for posting on how to upload photos to the forum. I'm having trouble doing this despite following your guidelines. Photobucket seem to have had an update and I have trouble doing it the way you've described. Have you used the site recently? and if so any advice on how to do this.

Cheers
Chris



Posts

: 8


Points

: 1397


Join date

: 2014-07-10


Location

: Bromsgrove




---
Permissions in this forum:
You
cannot
reply to topics in this forum