Hi everyone,
My Mk3 Mini with an Elf/Hornet boot needs a new rooflining. I can have one made from the old liner as a pattern, but I want Newton's reproduction Longhorn pattern that matches the original fabric. Newton doesnt sell just the fabric, but can make a new liner for me. I want to be sure if I need a Elf/Hornet cut. Does anyone know for certain if the Mk3 Elf/Hornet rooflining cut is the same or different from a Mini? I read the bows are different, so maybe the liner is as well...
Thanks.
I have just had a Newton Commercial roof liner in cream crackle material fitted to my Mark III Elf, and it looks just great! Started to do the job myself but quickly realised that I needed some-one who knew what he was doing - cost me $A250 for the job but well worth it. My car has 6 roof bows.

I don't know if it's the same as a Mark III Mini, but I would think that Newton Commercial would be able to advise you on that. I dealt with Katie Pegg at Newton and found her very helpful and obliging- very prompt response to any queries and quick delivery to Australia.



Posts

: 31


Points

: 1893


Join date

: 2012-09-04



I spoke with Shaun at Newton Comm. and he was very helpful. I ended up ordering uncut meters of fabric and will have the sewing done locally. I imagine they don't sell just the fabric very often, but it seemed the best solution in case there is something different about my car and it doesn't match the Elf or Mini patterns. I should check if it has shipped yet...

Excellent - sounds like your problem is almost solved. I have dealt with Shaun and found him to be very helpful too.

Neil



Posts

: 31


Points

: 1893


Join date

: 2012-09-04



I too have always found Newton Commercial to be an excellent company to deal with, selling good quality products - some of it a bit pricey but you always get what you pay for




Posts

: 1219


Points

: 4461


Join date

: 2008-11-02


Age

: 51


Location

: Chislehurst -



I received a roll of fabric from Newton, shipped all the way to South Africa. It looks great, and the upholsterer stitched and installed the headlining.
Thats a lovely job, whats the rear like?
Tony

_________________
Club member no 0199
I'm perfectly sane, the voices said so.
Admin




Posts

: 1742


Points

: 5044


Join date

: 2008-11-21


Location

: Chester UK



Hey Tony, here is a photo of the rear. The door cards and rear panels were remade as well. From the photo you can see I'm missing the companion box trim on the right side.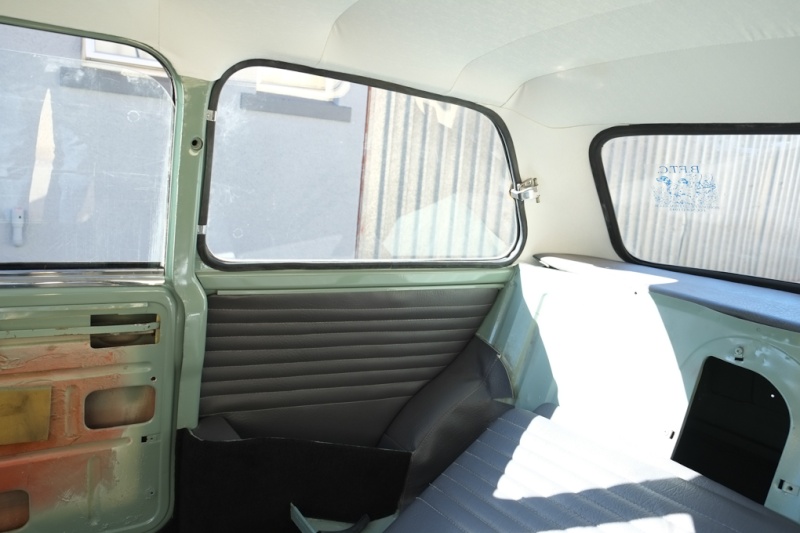 Similar topics
---
Permissions in this forum:
You
cannot
reply to topics in this forum