I have managed to find almost every shiny bit for my 68 Elf resto, even finally found a good grille badge, but I haven't been able to come up with a bonnet center trim. The one I have is cracked through at the center pin. I could probably have it welded and re-chromed, but I would much rather start with a better piece. Does anyone have an extra one in their spares bin?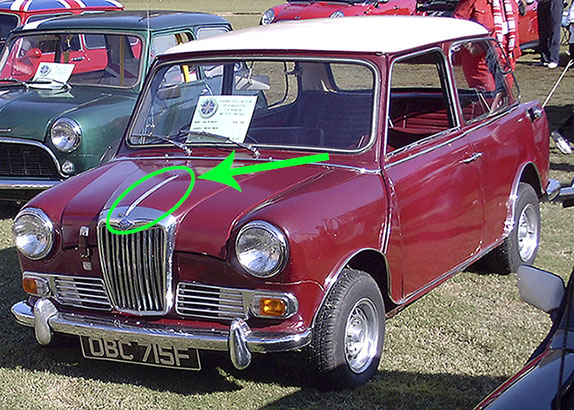 _________________
Click here to see my latest project!
. . . . . . . . . . . . . .
Click on the banner above to see my photo gallery.
Admin




Posts

: 1190


Points

: 4650


Join date

: 2008-10-27


Age

: 58


Location

: Johns Island, SC, USA



Im looking for a one for my hornet aswell mate
Admin




Posts

: 292


Points

: 3647


Join date

: 2008-10-26


Age

: 28


Location

: Wiltshire



a while back the riley motor club (
http://www.rileymotorclub.org/
) had a batch remanufactured and sold them for £50 each but i don't know if they have any left
the hornet one is different and never been available new so it's a case of scouring ebay and the autojumbles and the trick is to find one that still has it's mounting bolts attached although they are fixable
it is possible to have them chromed even though they are mazak and i had mine done a few years ago and they got most of the pitting out except the deep ones - still looked miles better
best of luck chaps




Posts

: 1221


Points

: 4619


Join date

: 2008-11-02


Age

: 51


Location

: Chislehurst -



I defo have one, maybe two, I think the lugs are ok, but they both will need new chrome.



Posts

: 204


Points

: 3596


Join date

: 2008-11-19


Age

: 44


Location

: Oxfordshire



http://cgi.ebay.co.uk/RILEY-ELF-WOLSELEY-HORNET-BONNET-CENTER-EDGE-TRIM_W0QQitemZ200284324990QQihZ010QQcategoryZ39992QQssPageNameZWDVWQQrdZ1QQcmdZViewItem
worth a look? it looks to be an elf one rather than a hornet one.




Posts

: 1221


Points

: 4619


Join date

: 2008-11-02


Age

: 51


Location

: Chislehurst -




---
Permissions in this forum:
You
cannot
reply to topics in this forum